Ship from Mexico to USA: Expand Your Business with Mexico Trucking, Logistics Experts
English | Español
Air, rail, or ground—AIT's transborder Mexico logistics experts' tailored solutions will grow your bottom line
In 2021 alone, cross-border freight between the United States and Mexico totaled nearly $51 billion. And that figure is expected to increase through the next decade.
With demand on the rise, it's important for businesses to secure access to freight capacity, affordable rates, and reliable service. That's why so many choose to partner with the supply chain logistics experts at AIT.

Mexico trucking, air freight and more: Explore AIT's transborder Mexico solutions
Whether you need to ship from Mexico to the USA, the reverse, or both, we'll tailor a plan just for you—designed to move your freight as quickly and efficiently as possible.
Our team of cross-border experts handles all documentation and works to move your freight through customs without delays via ground, air or rail, with a full suite of options for a wide range of industries, from automotive manufacturing to food distribution. Available services include:

Why choose AIT to ship from Mexico to USA—or the reverse?
In addition to our comprehensive transborder Mexico shipping services across all major modes of transport, partnership with AIT also includes:
24/7 customer service
Door-to-door service capabilities
Access to bonded warehouses across North America
Expedited/priority U.S. customs clearance
Comprehensive Mexico customs clearance assistance
IMMEX expertise
Access to a global, dedicated, and credentialed partner network
Real-time shipment tracking for 100% visibility

How does AIT's expedited LTL shipping differ from traditional Mexico trucking?
With traditional less-than-truckload (LTL) shipping from the United States to Mexico, your freight needs to pass through several layers, and potentially many different hands, before it reaches its final destination. With AIT's expedited LTL process, however, your freight moves seamlessly from our consolidation center, through customs clearance and to the destination customs port.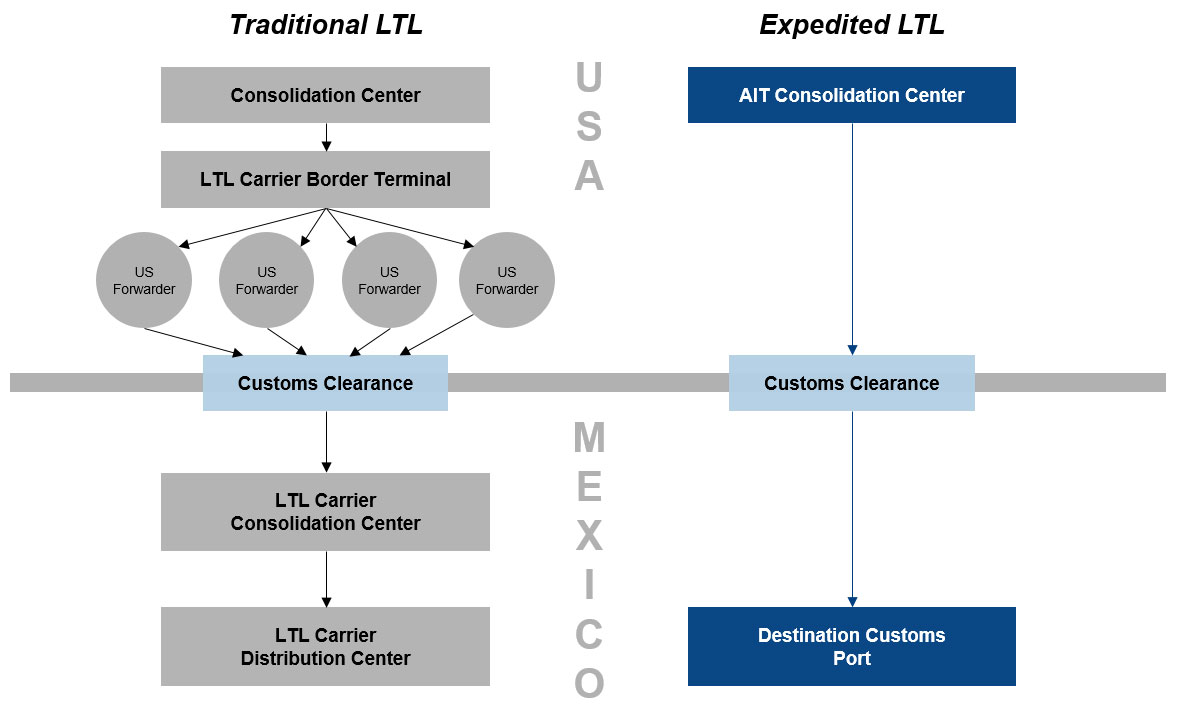 Whether you want to ship from Mexico to USA or the reverse, expedited or priority clearance gets your freight through customs as soon as possible by giving your shipment priority over others. Learn more about our in-house
U.S. Customs Brokerage
team, as well as our transborder
Mexico Customs capabilities
.
Through the IMMEX program, previously known as the IMMEX Maquiladora program, foreign manufacturers may import raw materials and components into Mexico, tax and duty free, under the condition that 100% of all finished goods will be exported out of Mexico within a specified timeframe.
AIT's participation in the IMMEX program gives our customers full advantage of the country's preferential tariff programs, helping you maintain compliance and operate within IMMEX regulations. Learn more about the program at economia.gob.mx(Opens in a new window).