How to Use Incoterms® Rules, Common Shipping Terms
AIT supports the international import and export guidelines and universal shipping terms laid out in the International Chamber of Commerce's (ICC) Incoterms rules.
Read on to learn more about the Incoterms rules, how to use them, and what's new in Incoterms 2020 compared to Incoterms 2010. And don't miss the glossary of common shipping terms.
What are Incoterms? Are Incoterms mandatory?
Short for "International Commercial Terms," the Incoterms are a set of globally recognized trade rules organized into 11 abbreviated terms. First published in Paris in 1936, by the International Chamber of Commerce (ICC), the Incoterms rules provide:
Uniform interpretation of common contract clauses primarily found in export and import transactions
Illustration of the timing and division of costs and risks between buyers and sellers
Instructions to carriers, forwarders, customs brokers, banks and other financial institutions involved in shipping goods
The Incoterms rules are not mandatory. They are not laws enacted by governments, but rather, guidelines agreed to by parties to a contract. Ultimately, it's up to the buyer and the seller to agree to each party's responsibilities, as well as the cost and risk of a shipment before it takes place. Learn more.
How do I use Incoterms?
When incorporating Incoterms into a sales contract you will need two components: 1) the abbreviated name of the rule/term you're using and 2) a named place.
All 11 of the Incoterms rules require one of the four named places:
Place of delivery
Place of destination
Port of shipment
Port of destination
In the example below, FCA stands for "Free Carrier" and the rest of the entry specifies the "named place of delivery" required in the rule.
Example: FCA, Generic Cargo Terminal, Chicago O'Hare International Airport (ORD), USA

Shipping Terms Abbreviation Groups
The list below breaks down the 11 Incoterms rules into four color-coded categories for easy navigation and understanding.
Note that while the Incoterms FAS, FOB, CFR and CIF are applicable to only sea or inland waterway transport, all other terms can be used for all modes of transportation—air, ground, rail and ocean.
You'll find the named place required for each rule in the parentheses after the rule's name.
E terms - Departure
EXW - Ex Works (Place of Delivery, Usually Seller's Premises)
F terms - Main Carriage Unpaid
FCA - Free Carrier (Place of Delivery)
FAS - Free Alongside Ship (Port of Shipment)
FOB - Free On Board (Port of Shipment)
C terms - Main Carriage Paid
CFR - Cost and Freight (Port of Destination)
CIF - Cost, Insurance and Freight (Port of Destination)
CPT - Carriage Paid To (Place of Destination)
CIP - Carriage and Insurance Paid To (Place of Destination)
D terms - Arrival
DPU - Delivered at Place Unloaded (Place of Destination, Where Seller Unloads)

Formerly: DAT - Delivered At Terminal (Terminal at Port or Place of Destination)

DAP - Delivered At Place (Place of Destination)
DDP - Delivered Duty Paid (Place of Destination)
Incoterms 2020 at a Glance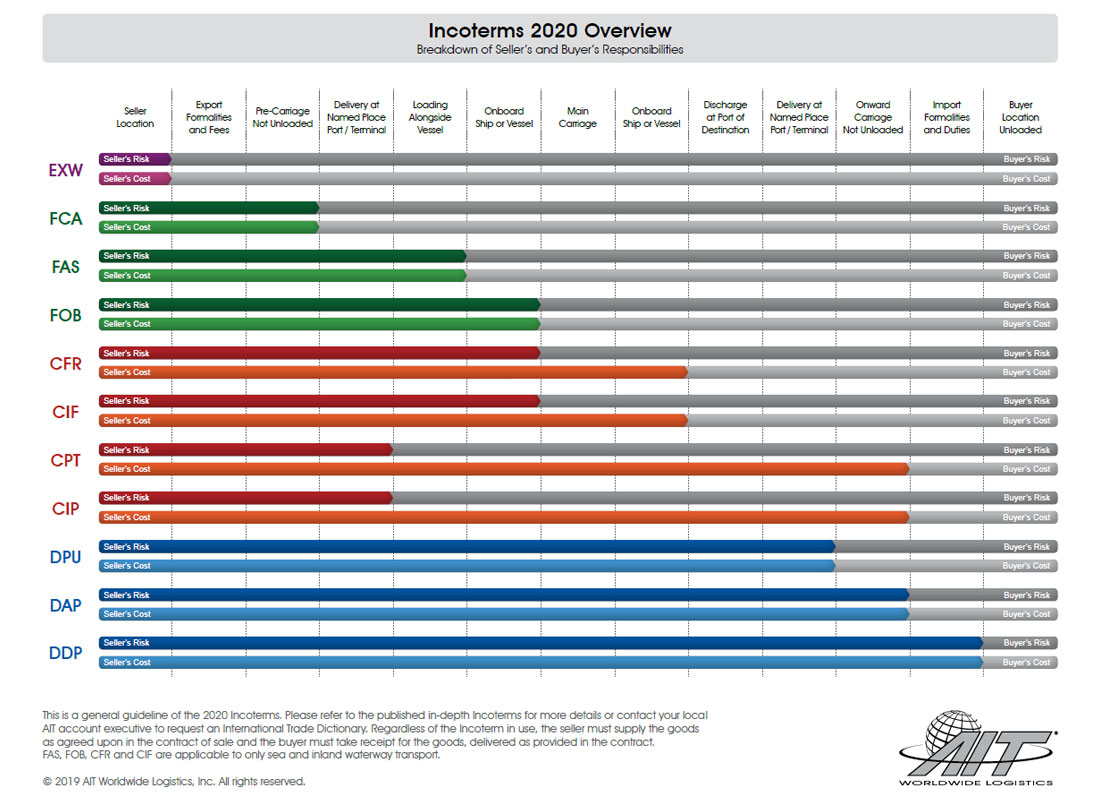 Incoterms Limitations
The Incoterms rules are detailed; however, they do not address every contingency of an international transaction and leave some terms to the parties' discretion. For example, Incoterms rules do not cover terms of payment or ownership /passage of title. And because of their global, universal nature, Incoterms rules do not include national trade terms, such as the U.S. phrase "less than truckload shipping (LTL)."

Incoterms Updates
The ICC regularly updates the Incoterms rules, publishing a major update every 10 years. The latest version, Incoterms 2020, was published on September 10, 2019, and went into effect January 1, 2020.
While the majority of the rules remain unchanged between Incoterms 2010 and Incoterms 2020, there are two notable rule changes in Incoterms 2020:
The rule formerly called Delivered at Terminal (DAT) is now referred to as Delivered at Place Unloaded (DPU)[PB1]
In the rules for Carriage and Insurance Paid (CIP), the level of freight insurance provided is now Institute Clauses (A), versus the lower level Institute Clauses (C)
Do Incoterms rules allow for electronic communication?
Yes. If both parties agree to it, Incoterms allows electronic communication, such as EDI and electronic documents.
Incoterms Shipping Terms Glossary
Some of the most common words and phrases that appear in the Incoterms rules include:

Break Bulk Cargo
Conventional, un-containerized cargo that ships in units of one or packages, such as vehicles, machinery, palletized or boxed cargo.

Bulk Cargo
Cargo that is composed either of 1) free flowing articles, like oil, grain, ore or coal or 2) uniform cargo that stows solid, such as coils, pipes, sheets of metal, timber and lumber.

Bonded Warehouse/Terminal
A warehouse or terminal approved by the U.S. Treasury Department for storing goods until duties are paid or the goods are released.

Carriage
Transportation of cargo while on board main carrier from airport/port of loading to airport/port of discharge.

Carrier
An individual or legal entity in the business of transporting goods for hire.

Customs-Trade Partnership Against Terrorism (C-TPAT)
A voluntary business initiative, administered by U.S. Customs and Border Protection (CBP), to ensure the integrity of the supply chain among importers, carriers, brokers, warehouse operators and manufacturers.

Customs Broker
An individual or firm licensed by U.S. Customs and Border Protection to handle a sequence of customs formalities required for the import and export of goods.

Delivery
In the Incoterms rules, delivery refers to the point when risk transfers from seller to buyer. This is often, but not always, the same point in the transaction through which the seller has agreed to pay, it is not always the same point. "Delivery" is thus when the seller has fulfilled their obligation and bears no more risk, even if still responsible for paying for the next stage in the transaction.

Duty
A tax levied by a government on the import, export and consumption of goods. Duties are based on the value of goods as well as factors like weight and quantity.

Freight Forwarder
A company providing a range of transportation services for cargo shipments.

ICC
The International Chamber of Commerce.

Incoterms / Terms of Sales
Terms that define the obligations, risks and costs of the buyer and seller, involving the delivery of goods that comprise the commercial transaction. Incoterms are organized by modes of transport, either any mode or modes of transport and sea and inland waterway transport terms.

Intermodal
The coordinated transport of long-haul movements using any combination of modes, freight forwarders or motor carriers.

Multimodal (or "any mode")
The use of more than one mode of transportation to move goods from origin to final destination. The Incoterms for the use of any mode or multiple modes of transportation to move goods from origin to final destination. They are EXW, FCA, CPT, CIP, DAT, DPU and DDP.

On-Carriage
Transportation that takes place after the shipment is offloaded from main carrier at port of discharge.

Pre-Carriage (inland transportation)
Transportation that takes place prior to the shipment being loaded on board main carrier at airport/port of loading.

Ro-Ro Vessel
A category of ships designed to load and discharge cargo that rolls on wheels, such as cars, trucks or locomotives.

Sea and Inland Waterways
Specific Incoterms for maritime shipments that cover both inland waterways and seas and where the seller places the goods alongside or on board the vessel at port (and at which point the risk of loss passes to the buyer). They are FAS, FOB, CFR and CIF.

Terminal
An area that serves as a loading, unloading and transfer point for cargo.