AIT Worldwide Logistics joins U.S. Meat Export Federation
Published on: Nov 27, 2019
Membership in the nonprofit trade association bolsters AIT's reputation as a global partner for North American red meat exporters
ITASCA, Ill. (December 3) – Global supply chain solutions leader AIT Worldwide Logistics recently became a member of the U.S. Meat Export Federation (USMEF), a trade association dedicated to developing international markets for beef, pork, lamb and veal produced in the United States.
Membership in the USMEF further affirms AIT's reputation as a trusted
global cold chain
partner for red meat
producers who are developing and supporting markets for their products in Asia and Europe.
"USMEF membership is a complement to AIT's longtime success in the food logistics sector," said AIT Vice President Strategic Accounts, Michael Rothacher. "Our
food logistics team
boasts an impeccable record of service for a broad variety of refrigerated foods, fresh produce and frozen foods. AIT is winning over new customers by demonstrating we can effectively protect and deliver their high-quality proteins throughout a seamless global cold chain."
Headquartered in Denver, the USMEF has 12 additional offices in China, Japan, Mexico, Russia, Singapore, South Korea and Taiwan. The organization's scope extends to more than 90 countries where marketing and trade servicing efforts benefit its 275 member organizations.
AIT Food Logistics Sales Director, Steve Taylor, recently attended the USMEF board meeting in Tucson, Arizona.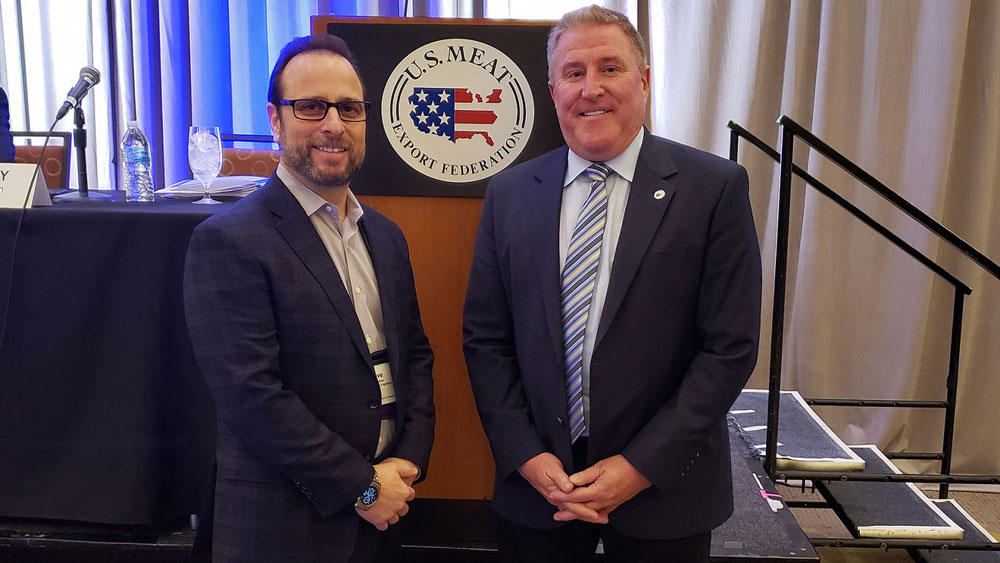 AIT's Steve Taylor, Director of Sales – Food Logistics (left) recently met with Dan Halstrom, President and CEO of the U.S. Meat Export Federation (right) at the trade association's board meeting in Tucson, Arizona.
"The USMEF supports an impressively broad range of companies," he said. "The meetings provided a wealth of information about the outlook for the meat export industry including current challenges in the marketplace. The event was also a great opportunity to meet new and existing members."
In addition to becoming a member of the USMEF, AIT has successfully achieved multiple noteworthy accomplishments in the cold chain industry, in the last 14 months, including the acquisition of two Los Angeles-based forwarders.

Following the company's 2018 acquisition of perishable food product forwarder WorldFresh Express, earlier this year, AIT acquired Unitrans, a forwarder with expertise in shipping food ingredients and life sciences commodities.

AIT also received Good Distribution Practice certification for the company's cold chain hub in Itasca this year, and joined the International Refrigerated Transportation Association arm of the Global Cold Chain Alliance.

AIT provides robust, innovative cold-chain shipping solutions for temperature-sensitive products ranging from fresh, refrigerated and frozen foods to life science commodities like pharmaceuticals. AIT's temperature-controlled services include packing, kitting, warehousing and shipping that is optimized for brand protection by preserving cargo integrity and eliminating product loss.

Learn more about the USMEF at USMEF.org.

Visit the AIT Worldwide Logistics Media Center for media contact information and more