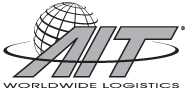 1-800-669-4248

Case Studies
The Challenge: Expediting a 300 kilogram international air shipment of networking equipment for an award-winning information technology delivery (ITD) company headquartered in San Francisco would have been challenging enough for an average freight forwarder. Installation engineers due to arrive on site expecting the equipment to be ready and waiting would have added a further degree of difficulty. But when the commercial end user in New Delhi, India didn't hold an importer's license, how could a tight delivery deadline be met without the customer's pallets of high tech gear spending three to four weeks tied up with Indian customs authorities? (more. . .)
The Challenge: A mid-size Denver, Colorado area company specializing in the tight tolerance sawing and distribution of non-ferrous metals such as aluminum, brass, copper and stainless steel had developed a good business relationship with AIT Worldwide Logistics utilizing overnight air, dedicated flatbed and hotshot services.
Many of their day-to-day shipments, however, were sent using LTL service from another provider. Though more cost-effective than expedited options, the customer was not receiving ideal LTL rates and the other provider's customer service support did not measure up to the standard that had been established by AIT. (more. . .)
The Challenge: For their biennial worldwide conference, one of the world's largest multi-national fast food restaurant chains needed thousands of fresh product samples on hand to promote to the over 16,000 employees and franchisees in attendance.
When they'd tried working with other logistics providers in the past, the customer suffered a staggering perishables failure rate of up to 70%. For this critical, highly visible project, the fast food giant issued a mandate to their suppliers: use AIT Worldwide Logistics. (more. . .)
The Challenge: A global home appliance industry leader needed an entire production line consisting of heavy automated industrial machinery delivered from a supplier's factory in Italy to their manufacturing facility in Ohio. The massive shipment of 116,797 kilograms filling 18 ocean containers not only required specialized equipment, but also had to arrive in a precise order to facilitate smooth installation of the line according to plan. Two years ago, the customer received a similar production line shipped from overseas, but the supplier had been in control of the cargo. The supplier used a different forwarder and as a result, that project suffered from a lack of synchronization and poor information sharing. (more. . .)
The Challenge: A nationwide seasonal retailer approached AIT's Retail Logistics team to quickly execute a bypass project involving 52,000 cartons from 65 containers. Within a tight 10 day window, the cargo needed to be received, sorted, segregated, scanned, palletized, shrink-wrapped and delivered as 220 shipments to locations in more than 15 states. (more. . .)
The Challenge: A prominent supply chain management provider specializing in cross trade operations for the aviation industry approached AIT's New York City station to execute the delivery of a 16,000 pound CF6-80 aircraft engine from Atlanta to Guangzhou, China. With a truck waiting to pick up the engine on a Friday afternoon, notification arrived that due to a clerical error on the supplier's end, the engine had been attached to an aircraft for another customer.
By the time a replacement engine was secured, it was late Saturday morning and AIT was asked to provide the hazmat declaration (or hazmat dec), a responsibility normally handled by the supplier. Due to flammable liquid in the engine, this critical paperwork is required by the U.S. Department of Transportation's Pipeline and Hazardous Materials Safety Administration (PHMSA) and must be completed by certified hazmat personnel. (more. . .)
The Challenge: One of the nation's leading pharmaceutical services providers was currently allowing its customers to handle the pack-out for all of their cold chain returns for overages or misdeliveries.

Improper packaging solutions and multiple service failures involving products ranging from flu vaccines to topical creams resulted in financial losses of a staggering $1.5 million last year.

Casting doubt on the effectiveness of their cold chain distribution process and the bottom line of their business, the need for accurate temperature control became critical for the customer. (more. . .)
The Challenge: AIT's South Bend station had been handling the domestic business for a worldwide distributor of military, industrial and commercial connectors. As the relationship grew, it was soon realized that the customer's corporate headquarters location in Philadelphia was conducting its own ocean import and customs brokerage business through another forwarder.

The contact advised AIT that they were not satisfied with the quality of services currently received from the incumbent provider, particularly in light of significant ocean import regulations being enforced across the industry. (more. . .)
The Challenge: During the peak season of air lift deficiencies and rate spikes for air cargo from Asia to North America, AIT's corporate headquarters location in Chicago was asked to move 45 pallets of plastic refrigerator bins weighing 16,103 kilos from Changzhou, Jiangsu Province in China to Ramos Arizpe, Coahuila, Mexico for a leading manufacturer of ranges, refrigerators and laundry products.

AIT's competitors communicated in writing to the customer that they would be unable to handle the shipment due to lack of air capacity. (more. . .)
The Challenge: One of the nation's leading pharmaceutical service providers presented AIT a business challenge that involved crafting local and national supply chain solutions involving real-time inventory control, advanced tracking and tracing systems and cost-effective distribution processes catering to the time-sensitive nature of their business.

The company specifically asked for AIT's expertise in transporting direct shipments of clinical trials and innovative therapies to sales teams, physicians, pharmacists and medical professionals. (more. . .)
The Challenge: A marketing and order fulfillment company was in dire need of a part that was manufactured by Philips Lighting in Chartres, France. The plant was about to shut down if the part wasn't received as soon as possible.

AIT's Cleveland and Chicago stations immediately sprang into action to begin coordinating the critical shipment. (more. . .)
The Challenge: A leading consumer electronics manufacturer introduced a new 85" high-definition plasma television to consumers that was not packaged to support transportation without damage. As the company's appointed logistics provider, AIT was first in line to handle the transportation.

AIT's corporate national accounts team determined that the high-value commodities were too risky to be transported in their own packaging. They advised the current customer of their findings and offered to put together a solution that involved crating the TV's on AIT's dock prior to shipping them to end-users for the final mile delivery. (more. . .)
The Challenge: AIT's corporate and Dallas teams had recently passed an extremely detailed and thorough Prescription Drug Marketing Act (PDMA) audit to begin handling business for a multi-specialty health care company.

However, within days of receiving a verbal commitment from the company, AIT's Los Angeles station was notified that customer's compliance department had expressed serious reservations about utilizing AIT's services due to a misconception of AIT's PDMA and Code of Federal Regulations (CFR) Part 11 audit and compliance results. (more. . .)