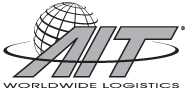 1-800-669-4248
Latest News
Alert: Potential Ocean Carrier Congestion Surcharge
There is a heightened possibility of labor unrest as the June 30 deadline to resolve ILWU-PMA negotiations draws closer. Labor disruptions could create significant congestion and interfere with the normal course of operations at U.S. ports.
Our Vision
At AIT, we vigorously seek opportunities to earn our customers' trust by delivering exceptional worldwide logistics solutions while passionately valuing our co-workers, partners and communities.
AIT Milestones