Cost-Effective Atlanta Warehouse Solution in North America's Gateway
Upgrade to Modernized Inventory Management with AIT's Atlanta Distribution Center
AIT's Atlanta warehouse and transportation logistics professionals deliver efficient, accurate inventory management for customers of all types and sizes.
Partnership with AIT-Atlanta's distribution center includes access to a full suite of features and benefits, including:
50,000 square feet
Unlimited SKU capability
24-to-48-hour East Coast delivery, three-to-five-day delivery to all other North American locations
24/7 surveillance, video recording
24/7/365 customer support
Fulfillment and kitting services
Flexible WMS, inventory management software integration
Rapid onboarding available—as little as 30 days
Convenient access to major rail, air and ocean hubs
One-Stop Shopping
Doing business with AIT-Atlanta gives you immediate access to AIT's entire global network of transportation logistics resources, including existing, seamless relationships with parcel integrators and common carriers.
That means AIT can easily expand your services well beyond warehousing to include any mode of transportation or logistics service needs, from import and export to customs brokerage to distribution and fulfillment.
You're the Focus
At AIT-Atlanta, and all AIT locations, our approach is both flexible and customer-centric. That means we don't expect you to fit into a pre-existing solution—we tailor our programs to fit your needs, from facility hours to staffing to inventory management technology and more.
Geographic Advantages
AIT-Atlanta is an ideal warehousing location for local, regional, national and international shippers looking to move goods throughout North America.
With a 48-hour maximum delivery range along the entire U.S. East Coast, and three to five days to all of North America, AIT-Atlanta offers quick access to all modes of transport, including deep water seaports in Savannah and Charleston, Norfolk Southern and CSX rail container yards, and a major U.S. gateway airport, Hartsfield-Jackson Atlanta International Airport.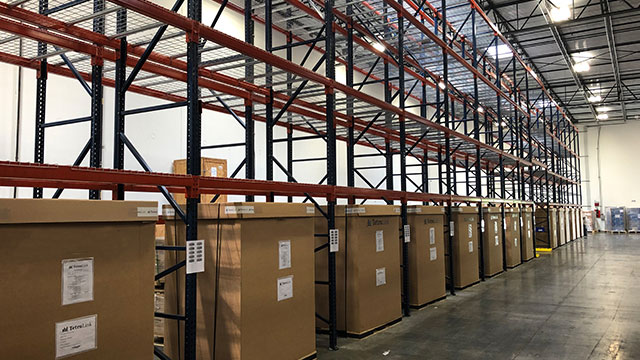 AIT-Atlanta is an industry-leading, full-scale inventory management facility, featuring:
28 dock doors with leveling, two ramps
Fleet of six electric forklifts
Four-level racking system
3,600 racked pallet positions
Affordable, flexible workforce
Annual audits and continuous improvement programs ensure high-quality service
Staff trained on high-value, high-profile, sensitive commodities
AIT's Atlanta distribution center has interior and exterior space for a diverse range of inventory, from stackable goods to oversized items.
The facility also features on-site product experts with experience supporting nearly every market, including high-tech, energy, medical equipment, aerospace, government, manufacturing, e-commerce, traditional retail and much more.
Rest assured that your inventory will be extremely secure with the team our Atlanta warehouse. Not only is the facility
certified by the U.S. Transportation Security Administration
, it also features 24/7 monitoring, a state-of-the-art alarm system, and 100% surveillance coverage via closed-circuit video. Additional security scale ups, including fencing and barbed wire, are also available upon request.
Learn more
AIT-Atlanta offers custom-designed barcoding and scanning for real-time cycle counts, serialization capture and reporting, streamlined inventory and increased accuracy, as well as data integration for any system.