Speed Up Transit Times with AIT's Wheels Up Customs Clearance Process
Accelerated, in-air U.S. Customs freight clearance processing
AIT's six-point Wheels Up customs clearance process can improve U.S. import transit times by as much as one full day.
How do we do it? The AIT Customs Brokerage team transmits shipment data within two hours after takeoff, and typically obtains clearance from U.S. Customs while your cargo is in the air.
Plus, AIT helps you generate all your customs paperwork and pre-pay import duties and taxes.
So, all you have to focus on is growing your business.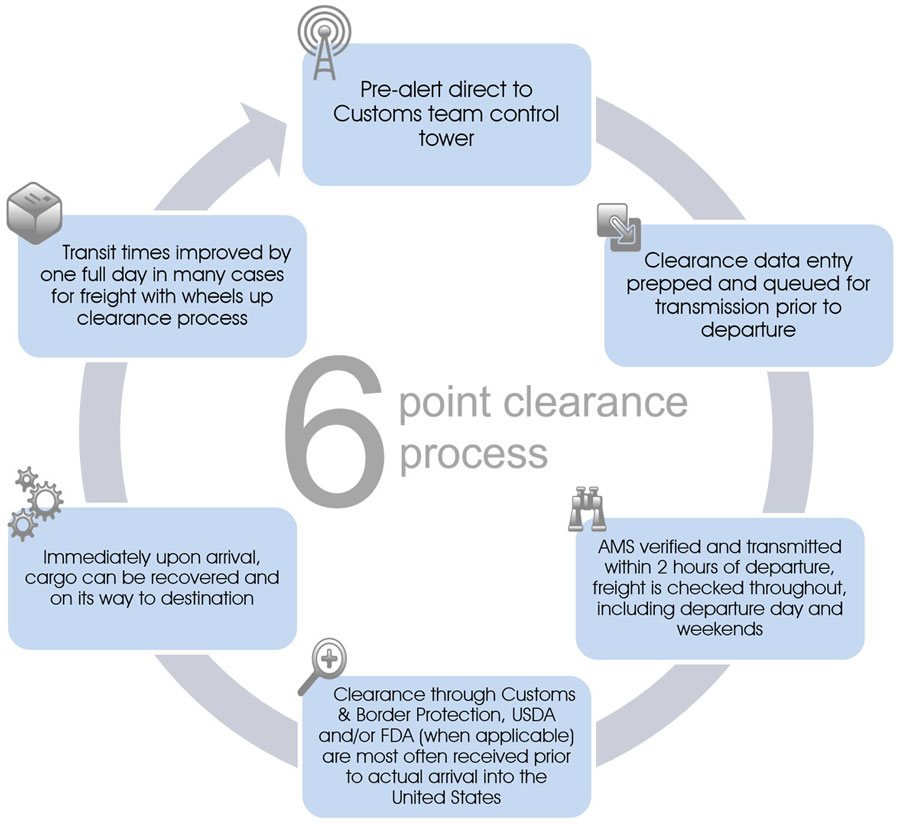 Customs clearance is the mandatory process of inspecting and levying duties and/or taxes on goods imported into the country prior to delivery to their final destination.
Essentially, the customs clearance process boils down to three to five steps, depending on whether you owe duties and/or taxes.
Learn more at CBP.gov
.
A customs officer examines your paperwork. It's integral to your shipment timeline that these documents are both accurate and complete, especially the commercial invoice and the shipping label.
Customs tallies import fees, duties and/or taxes, based on your paperwork. Fees vary depending on the type of goods, their value, and specific import regulations in the receiving country.
Customs requests payment for taxes and duties, if applicable. If your shipment exceeds the tax threshold, the customs officer checks if duty and taxes have been paid. Additionally, certain restricted goods may incur fees regardless of their value.
Taxes and duties are paid, if applicable. If you chose to Delivery Duty Paid (DDP) (i.e., pre-pay your import duties and taxes) you skip this step and head to step five. If your chose Delivery Duty Unpaid for your customs freight, CBP will forward your shipment to an independent customs broker for payment collection.
Your shipment clears customs and heads out for delivery. Once all duties are paid, your chosen transport service delivers the shipment to its final destination.
Without AIT's Wheels Up in-air solution, your customs clearance processing timeline could vary greatly—from hours to days to weeks if your paperwork isn't complete or U.S. Customs and Border Protection (CBP) takes issue with your documentation.
Key documents for customs clearance include commercial invoices, packing slips, and shipping labels. When you partner with AIT, we'll ensure you have all the documentation you need accurately completed prior to shipment.
Absolutely. AIT's customs brokerage team provides online, real-time, 24/7 clearance updates, including standardized reports on your daily, weekly, and monthly shipments, as well as all of your customs documentation.
AIT's Customs Brokerage team also provides a wide variety of services to ensure your goods are safe and secure every step of the way.
Customs bonds
Customs classification assistance
Duty drawback assistance
Foreign Trade Zone locations
Importer of Record services
Importer Security Filing
In-bond movements
Purchase order (PO) management
Risk management
And much more!