AIT Worldwide Logistics' expansion continues in Malaysia, Singapore
Published on: Oct 29, 2023
New Southeast Asia facilities launch in response to multinational shippers' increasingly diversified supply chain sourcing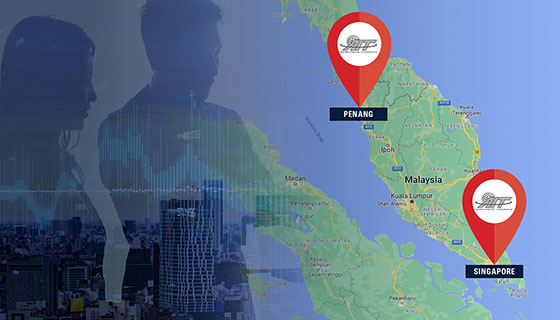 ITASCA, IL (Oct. 30, 2023) – Global supply chain solutions leader, AIT Worldwide Logistics, has opened two new locations in Southeast Asia, one in Penang, Malaysia, and another in Singapore. With the addition of these offices, AIT's geographic footprint in Asia has expanded to six countries, supporting customers that continue to diversify sourcing of components and finished goods.
According to AIT's Chief Business Officer, Greg Weigel, the new facilities are the latest example of the company's adaptability and flexibility in response to shifting customer demands in the region.
"Establishing dedicated teams in Malaysia and Singapore further supports AIT's robust business in Southeast Asia, while strengthening relationships with local partners," Weigel said. "AIT's expanding presence is helping shippers to reduce risk by embracing a broader variety of sourcing options in their supply chains."
Reporting to Senior Vice President, Asia, Wilson Lee, AIT's Regional Director of Singapore, Malaysia and Thailand, Siau Hwee Tan, oversees the new
AIT-Penang
and
AIT-Singapore
offices, which provide comprehensive freight forwarding services with a primary focus on air and ocean imports and exports.
"Manufacturing is growing quickly in Southeast Asia, especially in Malaysia, and our subject matter experts in both newly opened locations are already serving customers in the automotive, industrial and technology sectors," Lee said. "AIT also has well-established global networks to support special shipping requirements for consumer retail, food logistics and life sciences, so we are well-positioned to offer seamless onboarding for customers in those industries."
Both locations in Malaysia and Singapore are situated near major airports and seaports. The new facilities join more than a dozen AIT offices across Asia – and more than 110 across the globe. The company expects to open additional facilities in the region in 2024.
AIT-Penang
No. 51-06-E (6th Floor), BHL Tower
Jalan Sultan Ahmad Shah
10050 George Town, Penang, Malaysia

AIT-Singapore
80 Marine Parade Road
#18-03 Parkway Parade
Singapore 44926
For additional images associated with this announcement, please visit the location pages for Malaysia and Singapore on AIT's website:
https://www.aitworldwide.com/locations/
.