About AIT Worldwide Logistics
AIT Worldwide Logistics is a global freight forwarder that helps its customers grow by expanding access to markets all over the world where they can sell and/or procure raw materials, components and finished goods. For more than 40 years, the Chicago-based supply chain solutions leader has relied on a consultative approach to build a global network and trusted partnerships in nearly every industry, including aerospace, automotive, consumer retail, food, government, healthcare, high-tech, industrial and life sciences. Backed by scalable, user-friendly technology, AIT's flexible business model customizes door-to-door deliveries via sea, air, ground and rail—on time and on budget. With expert teammates staffing more than 110 worldwide locations in Asia, Europe and North America, AIT's full-service options also include customs clearance, warehouse management and white glove services.

Our Vision
Become the global logistics provider respected for delivering a world-class experience.

Our Mission
At AIT, we vigorously seek opportunities to earn our customers' trust by delivering exceptional worldwide logistics solutions while passionately valuing our co-workers, partners and communities.

Company Facts and Figures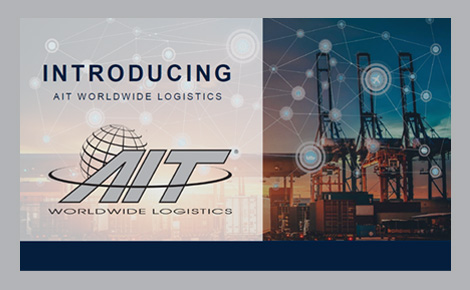 Media Contact
Marketing and Communications
+1 630 766-8300