Warming Up for the Swimming Team Trials in Omaha
Published on: Jun 21, 2016
Having previously hosted in 2008 and 2012, the city of Omaha, Nebraska is ready to welcome
USA Swimming's
quadrennial team trials for the third time in a row. The weeklong competition begins on Sunday, June 26, 2016 and determines which swimmers will advance and represent the United States in Rio de Janeiro, Brazil, where the world's foremost sports competition takes place this summer.
AIT Worldwide Logistics' Omaha location
has been involved since the beginning, serving as primary logistics partner to the
Omaha Sports Commission
, the non-profit entity dedicated to promoting amateur sports in the city. Likewise, public pool manufacturer
Myrtha Pools
also partners with AIT-Omaha for many of their logistics needs.
A Tale of Two Pools
For the trials, Myrtha supplies a pair of temporary pools: a warm-up pool in addition to the main competition pool. The pool used for the Invictus Games' swimming events at the ESPN Wide World of Sports Complex in Orlando, Florida was identified to be dismantled, loaded and transported to Omaha where it would serve as the warm-up pool for the swim trials. Myrtha asked AIT-Omaha to manage the Orlando to Omaha move with a tight window of just one week to complete the project.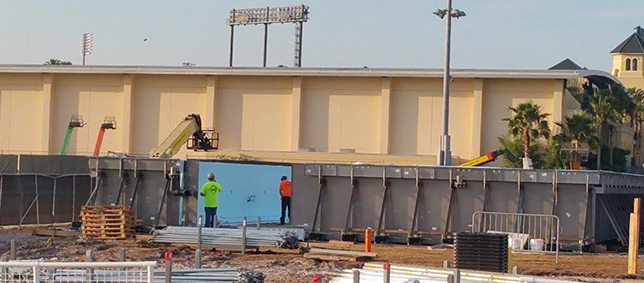 The Myrtha pool being dismantled in Orlando, Florida.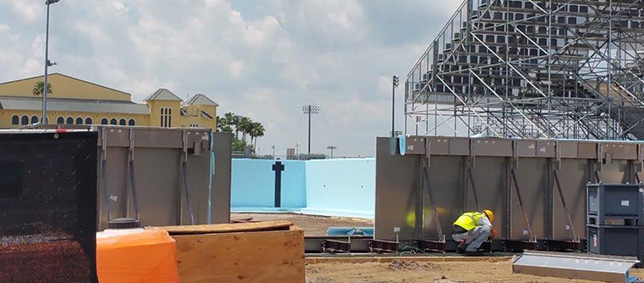 Additional disassembly at the Orlando site.
Dipping Into AIT's Reservoir of Resources
AIT-Omaha Branch Manager Terry McMullen and Operations Manager Brad Clark coordinated the project and plugged into the company network for additional support. John Killingsworth, International Operations Manager with AIT's St. Petersburg, Florida office was tapped to be on site in Orlando where he provided invaluable assistance by acting as load planner for the project. At the ESPN complex, Killingsworth oversaw 140,000 pounds of dismantled pool parts being loaded onto a standard 53-foot trailer and 10 flat bed trailers secured by
AIT's full truckload division
.
The cargo included heavy framing, pipes and panels along with two giant pumping and filtration systems. The site itself was tightly constrained and the only point of access for the trailers was a single lane dirt road. The AIT-Omaha team was also faced with a short timeframe of just a few days to completely load the pool and vacate the site.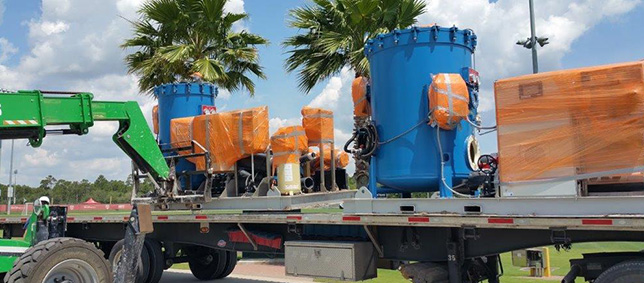 Primary and backup pumping/filtration systems were loaded onto flat bed trailers.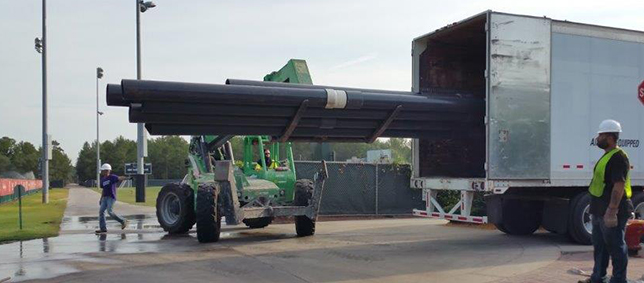 Pipes from the pool system were loaded into a 53 foot dry van.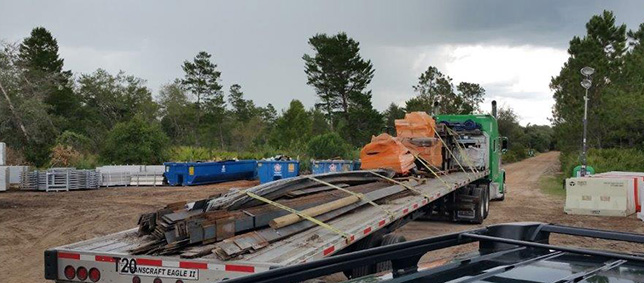 Access to the site in Orlando was limited to a single lane dirt road.
AIT Posts a Winning Time in the First Heat
Despite the challenges, the disassembled warm-up pool was securely delivered on-time from Orlando on 11 trailers. The parts were completely transloaded and stored at AIT-Omaha's 250,000 square foot warehouse with several days to spare before the next step – delivery and set-up at the
CenturyLink Convention Center
.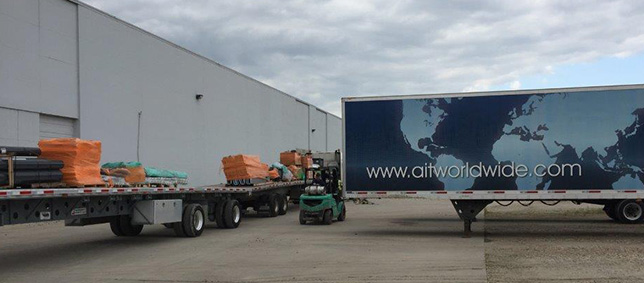 Upon arrival at AIT-Omaha's warehouse, some pool components were transloaded directly to an AIT trailer.
Coming next week: The competition pool arrives from overseas and both pools are delivered to the CenturyLink Complex.