AIT debuts new global headquarters in Chicago suburbs
Published on: Aug 14, 2023
Prominent Itasca high-rise accommodates corporate teams across multiple floors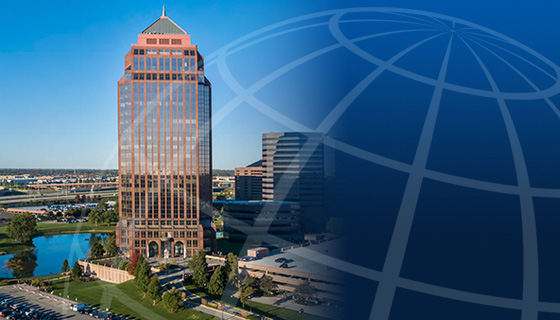 ITASCA, IL (August 14, 2023) – Corporate teammates for supply chain solutions leader AIT Worldwide Logistics recently moved into a new
global headquarters
at 2 Pierce Place in Itasca, Illinois. Previously, AIT's shared services teams were based out of multiple Itasca facilities, including
701 Rohlwing Rd.
, a single-story building and warehouse that had been shared with the company's Chicago station since 1997.
According to AIT's Chairman and CEO,
Vaughn Moore
, the move was spurred by the organization's exponential growth and emergence as a global logistics powerhouse.
"After more than 40 years in business, and immense expansion to more than 110 locations across Asia, Europe and North America, we're fortifying our roots in the Chicago area," Moore said. "This modern, highly visible location is a true manifestation of our global brand, and it provides our corporate staff with both the space and resources they need to best support our customers and teammates around the world."
Moore added that the new location is a major investment in AIT teammates' on-site work experience.
"Working together in this state-of-the-art office space allows us to be much more collaborative, enabling faster, real-time reactions," he said. "2 Pierce Place also provides the additional space we need to accommodate the future growth of our shared services teams."
AIT's global headquarters occupies multiple floors of the iconic 25-story suburban tower. Standing at 395 feet, it is the second-tallest building in Illinois outside the Chicago city limits. From its modern lobby to the tenant lounge, game room and outdoor patio, 2 Pierce Place offers popular on-site amenities, including a fitness center, walking trail, a full-service deli serving breakfast and lunch, grab-and-go dining options, and on-site catering services.
Team members from accounting, claims, finance, global business systems, global compliance, human resources, imaging, information technology, legal and marketing are stationed on newly remodeled high-rise floors with conveniences including a private game room, coffee bars, sit-stand workstations, and multiple conference rooms equipped with state-of-the-art audio-visual capabilities.
In the coming months, the remaining Chicago area AIT teams in Itasca and Wood Dale (including dedicated
food logistics
and
life sciences
locations) are planning to move into a unified multi-service facility in the nearby suburb of Palatine. This new joint office and warehouse space is under construction. Meanwhile,
AIT Truckload Solutions
will continue to serve customers out of their current location at 55 W. Monroe St. in Chicago.
Conveniently located near the intersection of Interstate 290 and the Elgin-O'Hare Expressway, AIT's new global headquarters is easily accessible from O'Hare International Airport:
AIT Worldwide Logistics
2 Pierce Place, Suite 2100
Itasca, IL 60143
Tel: +1 (630) 766-8300
Learn more about 2 Pierce Place at
twopierceplace.com
.