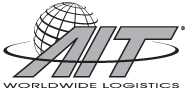 1-800-669-4248
October 2011 - Issue 66

AIT Miami moves into larger gateway and operations facility
Enhancing its international trade presence and strategic growth plans in Latin America markets, AIT Worldwide Logistics has moved to a larger gateway and operations facility in Miami.

Click here to read the full article

Peak Season Surcharges announced
Singapore-based container carrier APL will apply a peak season surcharge on cargo shipped from India to the U.S. and Canada.
As of Oct. 15, the proposed surcharge will be $400 per 40-foot container. Click here for more.
AIT will advise our readers of upcoming updates on additional peak season surcharges as they become available.
General Rate Increases effective Oct 1, 2011
NYK, CMA-CGM, Maersk and MSC have all announced general rate increases (GRI) for export cargo orginating in the United States beginning Oct. 1. Please consult with your AIT representative for additional details on the rate increases.

Senate Approves GSP Renewal
On Sept. 22, the Senate voted 70-27 to reinstate the Generalized System of Preferences through July 31, 2013, after attaching an amendment reauthorizing an expanded Trade Adjustment Assistance program.
GSP, which allows for duty-free treatment of certain goods from developing countries, was allowed to expire by Congress on Dec. 31. Since GSP's expiration, it's estimated that U.S. importers pay as much as $2 million a day in duties, according to the Coalition for GSP.
This announcement follows the recent approval of GSP by the House. Click here for more.
AIT attends NDTA transportation and logistics forum
AIT Worldwide Logistics was a recent exhibitor at the 65th annual NDTA logistics and transportation Forum and Exposition in Phoenix, Arizona.
"Rising to the Challenge" was the theme of this year's conference, which took place Sept. 10 – 14 and joined military, government and commercial transporters to share knowledge, network and connect with peers working across the global enterprise.
Keynote speakers, awards ceremonies and professional dialogue sessions provided attendees the opportunity to discuss roundtable topics ranging from national security, current practices for effective logistics management, transportation policy visions and industry challenges to be faced in the coming decade.

IATA lowers airfreight growth projections
International Air Transport Association officials have lowered their original growth projections for 2011 from 5.5 percent to 1.4 percent due to weak airfreight volumes out of the Asia-Pacific market.
Click here for the complete article.

Trade lane updates
Equipment imbalance in 20' standard containers has created market opportunities for the Argentina to USA trade lane.
New direct service offerings ex Long Beach to Australia and New Zealand have created market opportunities on this trade lane.
Please contact icoceanpricing@aitworldwide.com for any pricing requests.

WTO cuts 2011 world trade growth forecast to 5.8%
The World Trade Organization has revised its estimate of global trade growth for 2011 downward from 6.5% to 5.8%.
Click here for more information.
Containerized import volume forecasts on the decline
Journal of Commerce economist Mario O. Moreno recently slashed his forecast for containerized import volumes through the rest of the year. He now expects overall imports to grow 2.7 percent in 2011 and 4.4 percent in 2012. His latest forecast calls for trans-Pacific imports to decline 2.4 percent year-over-year in the quarter and rise only 0.9 percent in the fourth quarter, after increasing 4 percent in the second quarter.
Click here for more.
FDA publishes Frequently Asked Questions about the Food Safety Modernization Act (FSMA)
The FDA has recently published a list of Frequently Asked Questions related to the FSMA.
Click here for more details.

© 2011 AIT Worldwide Logistics, Inc.
eNewsletter Sign-up
Enter your email address here to be updated with the latest news and alerts.
eNewsletter Survey
Please provide us with your feedback.