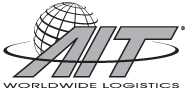 1-800-669-4248

Working for AIT
AIT Worldwide Logistics has changed a lot since the company was founded in 1979. Today we are among the top five transportation providers in the industry.
We serve more customers in more markets around the world than ever before. Our scale is global. Our strengths are local – that is, getting goods into local markets from around the world and with a personal touch. We offer an increasing array of services that respond to our customers' needs. We have invested millions of dollars in creating innovative, proprietary technology that is the backbone of our operations and product development.
In spite of our consistent growth and this ongoing transformation, AIT has stayed true to its roots as a family-run business. Every customer counts. Every employee is valued. Every community in which we live and do business is a place where we can contribute.
AIT people and the skills, talent and expertise they embody represent our greatest strengths and our most valuable assets. Our ability to serve our customers and deliver against our business priorities depends entirely on our people. They are the heart and soul of this company.
When you work for and with AIT, you are part of the family. Many shared values define the culture of this company -- teamwork, respect, integrity, innovation, commitment, and passion. These are strengths we bring to our work and that we share with our customers and our partners.
We seek to enable all employees to excel in their work through training, education and opportunity. Through a dedicated corporate development team, every new AIT employee is given the opportunity to learn or build on the necessary skills to succeed in their position. We are committed to helping our people grow and thrive in their work. State of the art technology and dedicated trainers help us introduce new programs and resources to enhance skills-building across the company.
Employees are empowered to take charge of their careers in AIT – there are no limits when it comes to job opportunity and movement. We believe in promoting from within the organization and providing our employees with every opportunity to succeed. Our people are rewarded with competitive pay and benefits, learning opportunities, leadership development and recognition. Through our Diamond Award Program, for instance, employees are recognized for their contributions to the business. Their success is celebrated annually.
Employee benefits include: Medical, dental, flexible spending accounts, 401K, short- and long-term disability, life insurance, paid vacation and company holidays.