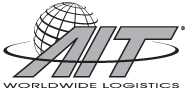 1-800-669-4248

Vaughn Moore presents AIT's 2011 global outlook
On Thursday, March 24, Vaughn Moore presented AIT's 2011 global outlook for the transportation industry during a professional development seminar hosted by APICS – the Association for Operations Management.

Moore's main points of discussion focused on domestic and international trends specifically relating to the increase of ocean and truck transportation and their reflection on air freight shipments.

Explaining the impact of fuel, providing insight on inventory demands and showing graphical support to defend upcoming container shortage issues, Moore delivered industry insight and provided support for these anticipated trends.

Other topics in Moore's presentation included the importance of cargo screening and the global market growth spotlighting the top countries trading with the United States.