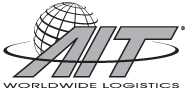 1-800-669-4248

Vaughn Moore Presents 2012 Transportation Outlook
For the second consecutive year, AIT President Vaughn Moore delivered a transportation outlook presentation to a joint gathering of Association for Operations Management (APICS) chapters at the Holiday Inn in Elgin, Illinois on Thursday, March 23.

Following a networking reception and dinner, the group of 50 operations professionals and students from a variety of industries settled in for Moore's remarks. He began by addressing key global situations that may have an impact on transportation and fuel in 2012 including tensions with Iran and the continuing European Union debt crisis.

"It was interesting to hear about the global impact that the oil supply could have on every economy and industry dependent on transportation," said Jim DeModica, President of the APICS Highlands Chapter.

Delving into every major aspect of the business, Moore covered topics including driver shortages in trucking, the continuing strength of rail and ocean carriers' struggles with overcapacity and pricing.

"Rail and full truckload infrastructure investments in coming years will give way to future employment and growth opportunities for organizations that support these industries," said DeModica.

After summarizing and closing with third party logistics and cloud computing trends, Moore led a broad question and answer session touching on everything from piracy on the high seas to rail infrastructure in the Midwest.

ABOUT APICS:

The Association for Operations Management is the global leader and premier source of the body of knowledge in operations management, including production, inventory, supply chain, materials management, purchasing and logistics. Since 1957, individuals and companies have relied on APICS for its superior training, internationally recognized certifications, comprehensive resources, and worldwide network of accomplished industry professionals. For more information, please visit www.apics.org.

The local Highlands chapter serves McHenry/Lake County, Elgin, Barrington, Schaumburg, Elk Grove, Hoffman Estates, Grays Lake and the surrounding areas; volunteers of the organization run chapter events and an array of educational programs and professional development seminars throughout the year. For more information, please visit www.highlandsapics.com.