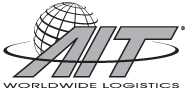 1-800-669-4248

Our Value
Corporate responsibility begins in the workplace and in the communities where we live and work. We seek to create an environment where AIT employees can flourish, both professionally and personally. We are committed to organizations and causes that help improve the world and the lives of citizens everywhere. Moreover, we seek to inspire and enable community involvement among our employees and partners. We do this by contributing to a range of cause-related projects and fundraising activities including:
American Cancer Society, Making Strides Against Breast Cancer walk
Hands Across the Sea
Susan G Komen, Race for the Cure
The Mission of Hope
SOS Children's Villages of Chicago
Saline Community Adopt-a-Family
View the events page for community involvement updates.
Environmental Responsibility
AIT focuses on meeting customer needs in a responsible, eco-friendly manner. We know that today's operations affect tomorrow's environment – especially when it comes to transportation. So we work diligently to promote a greener global supply chain through a number of ongoing initiatives and activities, including:
Fleet and fuel emissions improvements
Internal recycling program
Lights out program
U.S. EPA's WasteWise Program
Reduced electric consumption
Server virtualization program
AIT is also dedicated to reducing the industry's carbon footprint through active participation in SmartWay℠ Transport Partnership, an innovative program with the U.S. EPA. Through this certification, we are committed to reducing greenhouse gases and other air pollutants and improving fuel efficiency to protect air quality for future generations.
Smart Performance:
Partner Type: Logistics
Shipper Index Factor 1.25% - Top SmartWay℠ Score
We will continue to use our workforce and the spirit of innovation to aggressively seek ways to deliver transportation solutions with minimal environmental impact.
Quality Assurance
AIT sets the bar high when it comes to quality. We manage to rigorous performance metrics and service standards in order to exceed customer expectations and deliver superior global service solutions.
Closed-loop quality assurance includes our global network of agents, vendors and partners – all dedicated to achieving the same measurable standards of excellence. Through our Agent Service Center (ASC) Quality Assurance program we ensure that offices and agents update key delivery status on time, while Quality Business Reviews monitor and measure claims ratios, on-time performance, EDI accuracy, equipment performance and other key transportation indicators.