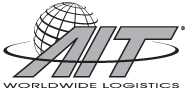 1-800-669-4248

Life Sciences
Whether it's getting life-saving medicines where they are needed on-time or managing the logistics around a drug sample distribution plan, AIT delivers. Our customers include pharmaceutical manufacturers and wholesalers, medical device makers and other healthcare providers.
We deliver more than just pharmaceutical commodities to residences, warehouse or storage facilities. When you choose AIT you are entrusting your pharmaceutical business to a specialist with industry-specific expertise. Understanding the critical nature of each shipment, AIT maintains a commitment to low OS&D numbers, averaging less than 1 percent measured against shipment count.
Service Offerings:
Sample Carry Business
Cold Chain Capabilities
Clinical Trials
Temperature Storage and Distribution
BioTech Industries
Supply Chain Services:
PDMA Compliance: signatures obtained upon delivery, hard copies on file for 5-year minimum and documented "chain of custody" procedures.
Documented Procedures and Pharmaceutical Field SOP: ensures consistency, accuracy and accountability throughout the shipment lifecycle.
Compliance & Loss Prevention Specialist: to avoid ramifications if non-compliant.
Highlights:
Extensive knowledge in foreign customs regulations.
Programs to assist with eliminating temperature excursions.
Dedicated Pharmaceutical Division: highly trained, courteous and dedicated operations/customer service teams.
Dedicated Tracking Team: regional tracking teams monitor delivery schedules and deadlines, while providing timely status updates to ensure delivery commitments are met.
Complete Visibility: all-inclusive tracking tools available on AIT's website. Status updates are displayed along with complete shipment details and costs associated with each shipping cycle.
Customized Reporting: provides data such as performance indicators and total transportation spend.
Voice mail Alerts: sales representatives receive voice mail notifications advising of arrivals in order to schedule delivery appointments.
Flexibility: multiple service levels available to meet delivery requirements, whether next day, 2nd day, 3-5 day or 5-7 day.
Pick, Pack and Label Services: on-site staffing available to manage shipping cycles directly from any shipping location.
Inside Deliveries and Debris Removal: available whether at a storage facility or residence.
Reefer Cargo Service: door-to-door temperature maintenance , pre-cooling of cargo, transit monitoring for temperature control and self-sustaining containers with portable power sources.