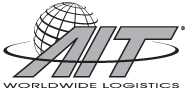 1-800-669-4248

Open an AIT Office
Ready to launch your transportation career? Open a logistics and transportation office and join our global network.
AIT Worldwide Logistics has been a leader in the transportation and logistics industry for more than 30 years. With offices across the United States we specialize in creating custom transportation solutions for many industries including: government, home delivery, perishables, life sciences and white glove.
To find out how to become an independent contractor of AITs growing network, please fill out the form below.
The information submitted will be confidential, your privacy will be respected.