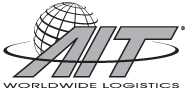 1-800-669-4248

Government
In the global arena of government shipping, essential supply chain efficiencies and cargo protection are the first lines of defense in designing a secure and fully compliant logistics plan.
As a sustaining member with the National Defense Transportation Association, AIT Worldwide Logistics is an industry leader committed to going beyond the call of duty in providing the proper equipment and extensive industry knowledge required to service all branches of the United States government.
We offer our customers custom-built transportation solutions, data integration, Syncada™ payment processing, and superior customer service for domestic air, LTL and FTL ground and ocean cargo.
Our CRAF (Civil Reserve Air Fleet) agreement enhances AIT's capabilities to transport government commodities internationally. Central to our seamless, superior service is strict governmental compliance, allowing AIT to protect the security of cargo throughout the industry logistics pipeline and government contractors.
Service Highlights:
Dedicated Government Personnel
Approved SCAC
CONUS and OCONUS
Supply Chain Visibility
Spot Quotes
Customized Tenders
Syncada™
Certified Cargo Screening Facility
Supply Chain Securities