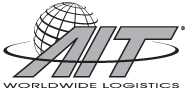 1-800-669-4248

AIT-Salt Lake City Station Provides Boost to Customer's Fundraising Event
On Friday, Nov. 18, co-workers from the AIT-Salt Lake City station played a noteworthy role in supporting a member of the extended AIT family at a charity event held at Noah's Event Center.

Just seven days earlier, a short email had been received from a customer contact. Although it was a casual invitation to attend a fundraiser for one of the customer's employees in a fight against leukemia, a type of cancer of the blood or blood marrow, AIT employees immediately sprang into action. That weekend, the team not only assembled a contingent to attend the benefit; they also amassed a raft of prizes to support the evening's raffle and silent auction.

One donation was secured for a two-night weekend stay from Salt Lake City's Hotel Monaco along with dinner for two at the award-winning Bambara Restaurant. These luxurious gift certificates anchored a "Night on the Town" gift basket created for the silent auction. AIT-SLC gave not only five $50 Costco gift cards, but also procured 100 orange "Find the Cure" bracelets, which were sold for $10 each. Four vouchers for the Xtreme Zipline attraction at Utah Olympic Park and a deluxe Adidas Clutch Stand golf bag rounded out the prize cache.

As part of representing AIT to the community at the event, three team members and their spouses assisted with registration at the beginning of the night. With the benefit's Texas Hold 'em Tournament getting underway, they next commandeered a table to peddle the orange bracelets. This effort alone brought in well more than the anticipated maximum of $1,000 thanks to two particularly bighearted donors who wrote checks for $200 and $500 in exchange for just a few of the bracelets.

AIT employees ultimately helped to raise a remarkable $7,000 for their friend and colleague, who has been receiving radiation treatment while preparing for a possible bone marrow transplant.