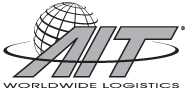 1-800-669-4248

AIT Pittsburgh participates in Saddle up for St. Jude
On Saturday, May 28, 2011, AIT-PIT employees participated in Saddle Up for St Jude, a volunteer-based fundraising event featuring horseback riding to raise money for St. Jude Children's Research Hospital.

Employees assisted in running the event and distributing water to participants along the 14-mile trail ride at Skyline Stables in Beaver Falls, PA.

The AIT-PIT station got involved in this particular organization largely in part to their relationship with the Hall family, who operate Forward Air in Pittsburgh.

In total, the event raised a grand total of$19,850. Through individual and vendor donations, the AIT-PIT team generously contributed $800.

Volunteers across the nation host "Saddle Up" events each year in order to help in the hospital's fight against childhood cancer, sickle cell and other catastrophic diseases.

The entire team looks forward to extending their event support on an annual basis.

About St. Jude Children's Research Hospital:

St. Jude Children's Research Hospital is internationally recognized for its pioneering work in finding cures and saving children with cancer and other catastrophic diseases. Founded by late entertainer Danny Thomas and based in Memphis, Tenn, St. Jude freely shares its discoveries with scientific and medical communities around the world.